Earth Yay! Page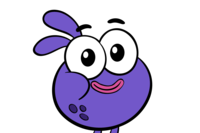 Level 1/5
McPufferson
Savannah123?
1
Watch this video to
earn a point for your champ!
While visiting the other planets, Earth learns its friends are all good at something. But what's special about Earth?
Earth yay. It sure is lonely out here. I wonder what the other planets have been up to lately. I should go visit them. Hi, Mercury. Oh, hey, Earth. Long time no see. I was about to go on a run. Want to race around the sun? Let's go. Got to go faster. Got to go faster. I've got this. Wow. You're fast. You ran four laps in the time I did one. Thanks. I'm little, but I'm the speediest planet in the whole solar system. Mercury zooms around the sun every 88 days. Hi, Earth. Do you mind if I borrow your moon to shoot hoops? I don't have one. No problem, Venus. I'll come play with you. Look out. Here I come. All right. She shoots, she scores. Whoa. Swish. Good game, good game. Ooh, you didn't miss a shot. You're on fire, Venus. Well, I am the hottest planet in the solar system. The surface temperature of Venus can reach 880 degrees Fahrenheit. Oh. How's it going, Mars? Dude. Come surf the asteroid belt with me. Whoa. Whoa. Look out. Whoa. Yeah. Tubular. Look at me. Hang ten. We made it through. Whoa. All that surfing turned up some of your rusty red dust. Righteous. Hey, that's why they call me The Red Planet. I'm the reddest and raddest around, brochacho. Mars gets its color from an abundance of iron oxide commonly known as rust. Jupiter, what's up, big guy? Not too much. Um, I did pick up a new hobby. Nice. Basketball? Weightlifting? No. Oh, ah, ooh, ah. Ooh, cha cha. [BEAT BOXING] This is the way Jupiter dance. That was beautiful. I didn't know the biggest planet in the solar system was so graceful. Thanks. I may be large, but I'm light on my feet. Jupiter is mainly made up of gases such as hydrogen and helium. Hi, Saturn. Your rings look extra sparkly today. Y'all are too sweet. I added some shiny ice chunks to the rocky bits and space dust. Come hula hoop with me. Wee. [LAUGHS] She's the most amazing planet in the universe. Galileo first spotted Saturn's rings in 1610. Ow. What the-- Your hula hooping skills are electrifying. Are you trying to look cooler than me? No way, Uranus. Everyone knows you're the coolest planet around. That's a fact. Sorry for the frosty greeting, kid. Uranus has the coldest recorded temperature of any planet at -371 degrees Fahrenheit. What are you doing way out here, Neptune? I like how quiet and beautiful it is. Ooh. Look how those comets light up the sky. Beyond Neptune, the Kuiper Belt is a source of comets. It's the best view in the solar system. Ooh. Aah. Wow. The other planets are so special. I'm not the fastest, the biggest, or the coolest. I must be the most boring planet in the solar system. [SIGHS] [CRYING] Ah. Wake up. What? We have something for you, tiny blue marble. For me? Surprise. Your air is the freshest. Me? You're covered in flowing water. Yeah. And most importantly-- Your full of life. Oh. [SINGING] Happy Earth Day to you, happy Earth Day to you, happy Earth Day, baby marble, happy Earth Day to you. Thanks, friends. You made me the happiest planet in the whole solar system. The end. [CHEERS] Woo hoo. Cheers, mate.