HOW TO Make A Squishy Stress Ball Page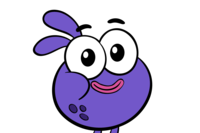 Level 1/5
McPufferson
Savannah123?
HOW TO Make A Squishy Stress Ball
1
Watch this video to
earn a point for your champ!
Learn HOW TO make a squishy stress ball with Om Petalhead, Aven, and Devyn
Children How To! Boy How to make a squishy stress ball. Stress balls can help you stay calm, cool, and collected. Not that I need one. Boy You'll need a funnel, a pair of scissors, one balloon, and one cup of flour. If you don't have a funnel, you can cut off a bottom of a water bottle and use it as a funnel, like this. Step one, wrap the neck of the balloon around the mouth of the funnel. (rhythmic music) Step two, pour the flour into the funnel to fill up the balloon. Peace, love, and flour power. (giggles) Boy Getting the flour to fill the balloon is tricky. Why isn't the flour going in easily? Boy You may need to use a pencil or chopstick to pack the flour into the balloon. C'mon, flour! Go in, go in! Now! Boy Don't give up. Almost done. Get it in there. Yes! Step three, take the neck of the balloon off the funnel and gently squeeze as much air as you can from the balloon, without losing any flour. Step four, tie a knot in the balloon. Sometimes, this is tricky. You got this! Can you hurry? I really need that stress ball. Boy There. Gimme that stress ball! Gimme, gimme, gimme! Boy Step five, squeeze your squishy stress ball as much as you want. You gotta try this. (sighs) See? I'm as zen as usual. Namaste. (graphic whooshes) Stressed? Try deep breaths. (breathes deeply) Take a full breath in through your nose. (inhales) Let your belly soften and expand as it fills with air. Now exhale slowly and completely. As you continue breathing, I'll open and close this ball, called a Hoberman sphere, to help set the pace. Inhale, one, two. Exhale, one, two, three, four. Inhale, one, two. Exhale, one, two, three, four. Inhale, one, two. Exhale, one, two, three, four. Inhale, one, two. Exhale, one, two, three, four. Ah.