America's Test Kitchen Kids: Giant Chocolate Chip Cookie! Page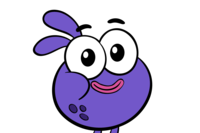 Level 1/5
McPufferson
Savannah123?
America's Test Kitchen Kids: Giant Chocolate Chip Cookie!
1
Watch this video to
earn a point for your champ!
Join America's Test Kitchen Kids recipe tester Zoe as she coaches her Grandpa Scy (a retired, formerly evil scientist) as he makes a Giant Chocolate Chip Cookie! Tune in to watch them work together in the kitchen and learn about the science and fun of cooking.
[MUSIC PLAYING] Hey, grandpa Scy. So I've heard you decide to retire and end all that official evil scientist business. I think you'll be so much happier using your skills to do good. Learning to cook and making delicious food for family and friends, it's a great first step. Anyway, grandma said you wanted some help learning how to cook so here I am. America's Test Kitchen Kids has taught me a bunch of recipes. So I pulled our first one out of the archives to share with you I think you're going to love it. Today, we're going to be making a giant chocolate chip cookie. [MUSIC PLAYING] OK. Let's go over our ingredients. Wait, Grandpa Scy, it's chocolate chips, not mind control microchips. That's better. Now, let's review the baking equipment. This looks like everything. Wait, where are the oven mitts? Nice one, Grandpa Scy. You do love gloves, don't you. All right. Looks like we're ready to go. Start by preheating your oven to 375 degrees. Is everything OK over there, grandpa? What kind of oven are you working with anyway? OK. What you have there is a 9 inch springform pan. For now, just spray the bottom and sides of the springform pan with vegetable oil. Now, in the medium bowl whisk together the flour, baking soda, and salt. In a large bowl whisk the melted butter, brown sugar, and sugar, until well combined. Add an egg in the vanilla and whisk until it's all smooth. Add the flour mixture to the butter mixture and use a rubber spatula to stir until there is no dry flour visible. And now comes the best part. Add the chocolate chips. Hey, those aren't chocolate chips. There are no mind control microchips in this recipe. We went over this already, grandpa. You're not evil any more. Your cookie dough should be all set. Not so fast, grandpa. We have to save this dough for baking it will be even better cooked. I promise. Use a rubber spatula to scrape your cookie dough into your greased pan and spread the dough into an even layer covering the bottom of the pan. All right. We're ready to bake. Place the springform pan in the oven and bake for about 18 to 22 minutes. Wait, no, grandpa. I said the oven. Use the oven. Are you OK? All right. Let's try baking that again in the oven this time. Place the springform pan on the cooling rack and let the cookie cool in the pan for 30 minutes. So glad you invented that timer transition. It makes this a lot faster. Run a butter knife around the inside edge of the springform pan to loosen the edges of the cookie. Then unlock the clasp and remove the side of the pan. Next up, use an icing spatula to loosen the bottom of the cookie from the pan and then transfer the cookie to the cutting board. Great job, grandpa Scy. Aside from blowing up that cookie earlier, and trying to add all those microchips, I guess all things considered, you're making some progress. All that's left is to cut the cookie into wedges and serve it up. Grandpa, I'm glad you're excited about baking and all but the lightning and maniacal laughter is a little bit much. I mean, it's just a cookie. Remember, we're learning, not destroying. Overall, you did a wonderful job. Thanks for watching. Bye.