America's Test Kitchen Kids: What is Gluten Anyway? Page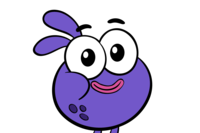 Level 1/5
McPufferson
Savannah123?
America's Test Kitchen Kids: What is Gluten Anyway?
1
Watch this video to
earn a point for your champ!
What is gluten, and how does it work? Find out in this flour-powered episode where ATK Kids recipe tester Adelina walks us through a world of webbed proteins to show us how gluten forms and the effect it has on our food.
Welcome to ATK Kids, where we ask and answer some of the most delicious food questions kids have like, what is gluten anyway? For so many, gluten can be one big mystery so let's break it down. Gluten is a network of proteins or tiny molecules found in many baked goods and most baked goods start with wheat flour, which contains two kinds of protein called glutenin and gliadin. Both are coiled up pretty tightly and when flour is dry, they stay apart from each other. But when flours mixed with water these proteins unfurl and begin to hang out linking up to form long stretchy chains. With time kneading or mixing, those linked proteins form a network kind of like a spider web. This is gluten and it's what gets baked goods from breads to muffins to brownies structure and support. Mystery solved. But did you know, a strong gluten network gives some baked goods like breads their tall height and chewy texture. Soft, tender baked goods like cake only have a little bit of gluten.