America's Test Kitchen Kids: DIY Edible Spheres! Page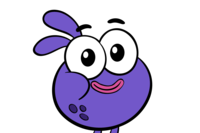 Level 1/5
McPufferson
Savannah123?
America's Test Kitchen Kids: DIY Edible Spheres!
1
Watch this video to
earn a point for your champ!
Today, Professor Scy enlists the help of his granddaughter, Zoe, a young chef with America's Test Kitchen Kids to teach you all about spherification, a cool technique that transforms liquids into solid, edible spheres! Tune in and then make your own flavorful edible spheres at home with our recipe!
[MUSIC PLAYING] [PHONE RINGS] [SPACE AGE STATIC] Hello, Grandpa. I hope you're excited for today's cooking lesson. I picked one that's right up your scientific alley. Only, you have to promise not to try and use this as some excuse to take over the world or something. It's supposed to be fun. Today, we're going to be turning a delicious liquid into solid, edible spheres. [ELECTRONIC DANCE MUSIC] All right, let's do our ingredient review. What flavor liquid did you choose, Grandpa? [WARNING BEEP] (ASTONISHED) Tears of your enemies? Well, I can't imagine that actually tastes good. Why don't you try something more friendly and delicious? Oh, like cranberry juice. This equipment looks all correct and complete, which makes me nervous. Are you planning something? All righty, but I'm watching you, Grandpa. [DING] At least four hours before you want to make your spheres, pour your oil into a tall container, cover it, and place the container in the refrigerator. Oh, well, I guess I should have mentioned that beforehand. What should we do for four hours? Oh, no. Grandpa, is that your time travel remote? No, it doesn't always work. Oh, and here you go anyway. Whoa. It actually worked. I think? I don't know if that was really cool or a little scary. Let's keep the oil in the fridge for now. Add 2 tablespoons of cranberry juice to a small bowl and sprinkle the gelatin over the surface. Use your rubber spatula to stir until there are no large lumps of gelatin remaining. Then, put that aside. Add the remaining 1/4 cup of cranberry juice to a liquid measuring cup and microwave it for 30 to 45 seconds. Wait. Grandpa, remember the giant cookie incident? Am I going to have to tell Grandma to take that away? OK, good. Thank you. Let's move on. I'm glad you used those oven mitts. That's going to be hot coming out of the microwave. Go ahead and pour the hot liquid into the bowl with the gelatin mixture and whisk the mixture until it's fully combined and you don't see any clumps. Now, place a funnel over the squeeze bottle and carefully pour in the gelatin mixture. Secure the top of the bottle and place it in the refrigerator for 10 to 15 minutes so the gelatin mixture thickens slightly. [BUZZING] Woo. OK, I think I'm starting to like that time travel device, Grandpa. [DING] And great. Looks like you brought the oil back from the fridge as well. Putting it in that bowl of ice will help keep it at the right temperature. Now, here comes the really cool and sciencey part. Hold the bottle at an angle over the container and gently squeeze the bottle until droplets of liquid fall into the oil. Each droplet should form a sphere and fall to the bottom of the oil. So cool. Those look great. If you want larger spheres, quickly drip several drops of liquid in the same spot. Nailed it. [LAUGHING EVILLY] Set a fine mesh strainer over a medium bowl and carefully pour the oil sphere mixture into the strainer. Then discard the leftover oil. Transfer the spheres from the fine mesh strainer into a second medium bowl that's filled about halfway with cold water. Then stir them with the rubber spatula. That will get rid of any extra oil. Now, go to your sink, Grandpa, and drain the water sphere mixture back to the strainer, and they'll be ready to eat. [DING] Those look awesome. How was that for a science experiment, Grandpa? Supercool and not at all evil. [LAUGHING EVILLY] OK, it makes sense on this one. [LAUGHS LIKE GRANDPA] After all, cooking is like science-- delicious science. Thank you. Bye.